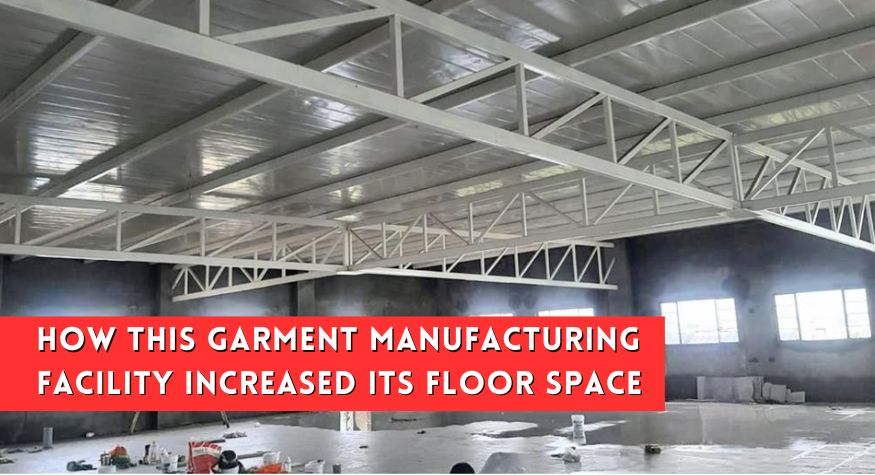 How this Garment Manufacturing Facility increased its Floor Space
Introduction:
Mr. Sumit Modi, a well-known industrialist, wished to construct a factory shed in Malviya Nagar, Jaipur. Initially, he was skeptical about choosing an unconventional approach and planned to rely on traditional brick and mortar construction. However, his perspective underwent a remarkable transformation when he discovered Pronto Panels and realized their immense potential. This case study explores Mr. Modi's experience, from the planning stage to the successful implementation of Pronto Panels, highlighting the features that convinced him of their superiority and cost-effectiveness.
The Initial Plan and Stumbling Blocks:
Mr. Modi envisioned a factory that would stand as a symbol of quality and efficiency. He initially planned to construct his factory, as many others do, using traditional brick and mortar techniques for the walls, and tin shed for roofing. However, as the project went on, he encountered challenges that threatened to derail his vision. The time-consuming nature of brick and mortar construction, coupled with the high costs involved due to it being labor intensive, made Mr. Modi question the feasibility of his plan. 
Searching for an alternative, Mr. Modi came across PUF Panels, a revolutionary construction solution that piqued his interest. Intrigued by the features offered by it, he decided to explore further. He learned that PUF Panels boasted a host of benefits, including exceptional strength, durability, and a high load-bearing capacity. The panels were lightweight yet capable of bearing heavy weights without deformation. This feature alone promised significant cost savings, as fewer purlins (metallic support structures) were required compared to traditional construction methods.
How was Pronto better than other PUF Panel Manufacturers? :
The next big question was which PUF Panel manufacturer to choose. For Mr. Modi, Pronto turned out to be the obvious choice as it stood superior in the following ways-
Use of GL coatings instead of standard GI coatings-
Pronto uses Zinc + Aluminum based GL coatings which provide strong rust protection as well as a long life to the panels, instead of Zinc based GI coatings which rusts and chips quite easily.
Pronto's unique Quantum Core gives it an edge above the other PU/PIR Based cores since it provides High Thermal Efficiency coupled with negligible deformation and Better Foam Performance.
Gives high degree of protection from rusting due to non-painted edges. This is essential since nearly all sought of corrosion to any structure usually starts taking root from the edges and corners itself.
Pronto Panels come with an extra layer of UV Coating. This is extremely crucial for countries receiving a lot of sunlight like India. This coating prevents subsequent Fading of the color and luster of the panels caused by the UV Rays emitted from the sun. Therefore, it ensures that your panels retain their color and shine for years to come.
Pronto provides a host of different add-ons which enhance the performance as well as the aesthetic appeal of your project. The following some of which you just cannot afford to miss:
Pre-fitted Conduits
L-Corners which ensures seamless insulation even at the corners of the building
Customizable Windows
Customizable Doors
Pre-made Overlaps to make connections water tight
Pastel Colors
Wooden Colors with a realistic texture and sheen
Cost-Effectiveness of Pronto Panels: [prices in per sq. ft. started at just 106/SqFt]
Mr. Modi's skepticism began to wane as he realized the cost-effectiveness of Pronto Panels. While the initial cost per square foot was slightly higher than brick and mortar construction, the reduced need for a metallic support structure offset the additional expense. The overall cost per square foot turned out to be comparable, if not lower, than his initial estimates.
Moreover, the speed and efficiency of construction with Pronto Panels promised further savings in terms of labor costs, leading to the overall cost of constructing with Pronto to come far lower as compared with the traditional RRC Based construction not to mention, along with all the features which come with using Pronto.
The Construction Process:
Greatly satisfied with the wide variety of different features offered by Pronto, Mr. Modi decided to go forward with this innovative approach. The construction process began with the precise installation of the panels, which seamlessly interlocked, creating a sturdy and secure structure. The lightweight nature of the panels facilitated quick and efficient installation, significantly reducing the construction timeline at the same time reducing the need for purlins and leading to increased cost savings.
The construction started and completed in a fraction of time compared to what it would have taken if Mr. Modi would have opted for the RCC based construction. This saved him from the Hassles and Costs of handling the site and labor on a daily basis for months.
The Successful Outcome:
As the construction progressed, Mr. Modi witnessed firsthand the transformative power of Pronto Panels. The factory began to take shape rapidly, surpassing his expectations. The strength and durability of the panels, combined with their excellent insulation properties, ensured a comfortable and productive work environment. The factory shed could withstand the harsh elements, including extreme heat and heavy rains, without compromising the integrity of the structure. Mr. Modi's confidence in his decision to choose Pronto Panels grew stronger with each passing day.
Final Experience and Benefits:
The completion of the factory shed marked a turning point for Mr. Modi and his business. The realization of his vision would not have been possible without the innovative solution offered by Pronto Panels. The cost-effectiveness of the panels, along with their exceptional features, including insulation, fireproofing, and water resistance, brought numerous benefits. Reduced construction time translated into significant savings in labor costs. The lightweight yet strong nature of the panels minimized the need for additional support structures, further reducing expenses. The final result was a factory shed that embodied efficiency, durability, and cost-effectiveness.With the successful completion of the project, Mr. Modi's faith in Pronto Panels was reaffirmed, leaving him with a lasting impression of their superior performance and immense value.